Best Kitchen Faucets 2022 – 2023: Review Guide
A kitchen faucet is a workhorse that's crucial to help you clean dishes, wash hands, and rinse vegetables and fruits. Besides cleaning, a kitchen faucet helps in enhancing the aesthetics of a cooking area. Therefore, homeowners think twice before buying this piece of kitchen hardware. After all, there is a lot more to consider than its budget and brand. While there are hundreds of styles to pick from, we share with you our guide for the best kitchen faucets 2022 – 2023.
This guide shortlists the best kitchen faucets available in the market. But before that, you need to know the things to consider before you buy a kitchen faucet.
Things to Consider Before Buying a Kitchen Faucet
A kitchen faucet enables you to add unique style and personality to your house. However, there is a wide range of collections depending on their design, style, and functionality. So, you need to answer a few questions for yourself to make a choice. Do you need a rotating faucet? The one with a pull-out hose? Would you prefer a touch faucet or one that can be paused?
You may have realized that there are many things to consider when looking for a kitchen faucet. It can be tricky to buy a kitchen faucet, depending on your home and the functionality you desire. While the price of a kitchen tap is vital, it should not be the only deciding factor.
You also need to consider the following factors before making a buying decision:
The spout's reach and height
It is crucial to choose a kitchen faucet that won't limit your containers' size. It means that you should be able to easily wash any sized container in your sink. You require a faucet that won't make a splash in smaller containers and must also accommodate larger pans and bowls. For this, it is best to consider a 360-degree rotation faucet or one with a pull-out hose. Both these faucets are ideal for accommodating any container size with ease.
The number of holes in a sink
Try to select a kitchen faucet depending on the sink holes. For instance, you would not want to buy a three-hole faucet of a sink that has only one installation hole. The information is available on the site you buy a faucet from and also on the package.
Consider the faucet finish
Some faucets are better compared to others when it comes to the kitchen's overall design and the material used. It is best to choose a finish that is easy to blend with a cabinet and something that lasts a long duration. You can choose from nickel, chrome, and bronze finishes. Out of these options, chrome is highly preferable.
Consider the number of handles you want on a faucet
The many newer faucets are available with a single handle rotation from hot to cold. Generally, a single handle is very convenient compared to two. Your selection depends on your preference, desire, and design flow required in a kitchen.
Consider how easily you can install and replace your faucet
You have to consider if the faucet parts are easy to replace or if you want to remove the whole faucet during an emergency. Some faucets are harder to install compared to others. Make sure to check the installation process before considering buying a kitchen faucet.
Our Top Picks For the Best Kitchen Faucets 2022-2023
Check out the top four best kitchen faucets 2022 – 2023 to consider for your modern cooking space:
 Delta Faucet Essa Single-Handle Kitchen Sink Faucet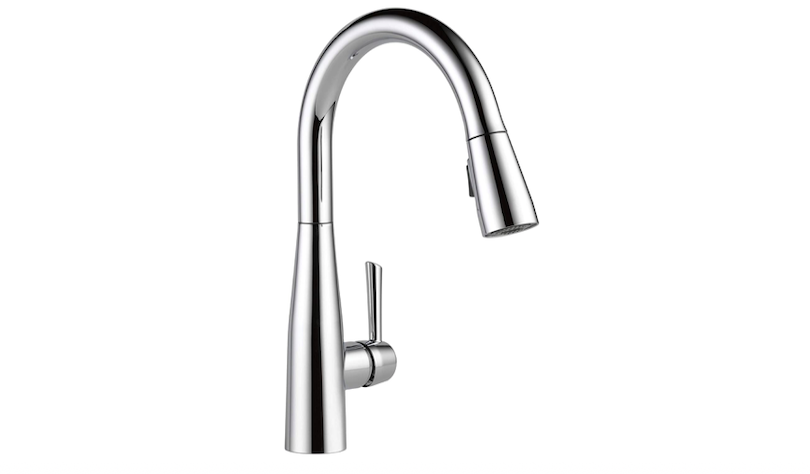 This product comes with a seal technology of patented Diamond. It helps in minimizing the leak points and also prolongs its overall lifespan. Furthermore, it boasts a magnetic dock that makes use of a magnet to snap the sprayer in position. It further keeps the faucet docked without dropping like other kitchen faucets. The faucet is also easier to clean since it boasts touch-clean spray holes for cleaning calcium and lime buildup with less effort without using any chemicals.
Product Details:
Thanks to its patented Diamond Seal technology, the faucet has no leak points and can last twice as long as the industry standard. The faucet comes with a leak-proof operation for the whole duration of the kitchen faucet.
It boasts MagnaTite docking that uses a powerful magnet for snapping kitchen sprayers in place. So, the faucet stays docked and does not droop with time just like other kitchen faucets.
Delta kitchen faucets boast touch-clean spray holes that let you quickly wipe away lime and calcium buildup with a touch finger. So, you can use or soak chemical cleaners with ease.
This faucet is easy to install and conveniently fits in a single-hole or 3-hole, 8-inch configuration. Everything you require is in one box, including an optional deck plate with a 3-hole installation. It even includes InnoFlex PEX supply lines to integrate within the faucet for a few leak points.
The product also comes with a lifetime limited warranty. So, you can easily install it knowing the product is backed with the company's lifetime limited warranty.
Pros:
It is a high-quality product
It is easy to install
Comes with a durable and long-lasting finish
It delivers outstanding performance
Con:
The company does not offer reliable customer care services
Delta Faucet Kate Single-Handle Kitchen Sink Faucet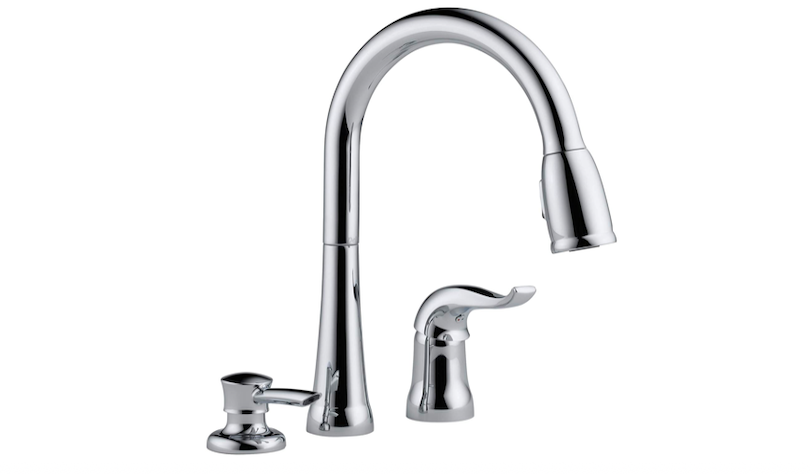 The Delta Faucet Kate is a single-handle spout that comes integrated with a diamond seal technology. It guarantees excellent performance and a longer lifespan. Furthermore, it reduces the leak points and comes with easy installation.
It even has a magnetic dock, the Magna Tite. It makes use of a dominant magnet to keep the kitchen sprayer snap in position. This prevents it from drooping. On the other hand, the device comes with a limited lifetime warranty.
Product Details:
The faucet lasts two times longer due to the patented diamond seal technology, which reduces leak points. It ensures leak-free operation for the kitchen faucet's life cycle. As per the industry standard, it ensures proper leak-free operation for kitchen faucet life.
MagnaTite docking makes use of a powerful magnet for snapping the kitchen sprayer in place. So, it remains docked and does not droop with time like other faucets.
Delta kitchen faucet comes with touch-clean spray holes that enable you to easily and rapidly wipe away lime and calcium build-up with a touch of a finger. So, you need to soak and make use of chemical cleaners.
It is designed to fix in a single hole or 3-hole with 6 to 8 inch configurations. For 3-hole installation, you can buy a deck plate separately. The InnoFlex PEX supply lines come integrated with the faucet for lesser leak points and are added in the box.
The Delta faucet's lifetime limited warranty. So, you can install it with confidence knowing it's backed by a warranty.
Pros:
It is worth the value
It is an outstanding product
The product is easy to install and use
It offers maximum performance
Con:
It does not work as it's advertised
OWOFAN Kitchen Faucets Commercial Solid Brass
The product includes a Ceramic Disc Valve and comes with a coating that resists scratches and corrosion. It comes with a maximum-arch design with 360 degrees. It offers more room for various sink activities. The pull-out sprayer comes with two functions. The primary one is an aerated stream and powerful cleaning feature.
Product Details:
It is a perfect kitchen faucet with an open spot and a compact design with a 15.7-inch height. Hence, it can even fit under cabinets.
The kitchen faucet comes with a pull-down sprayer that offers a soft aerated stream with splash-free powerful spray due to the hard rubber sprayer holes. This 360-degree kitchen sink faucet sprayer comes with a switch in every position. So, it's very easy to operate.
The spout reaches 9.2-inch, the spout height is 3.9-inch, and the overall height is 16-inch.
The maximum Deck Thickness is 2.5-inch, and the pre-drilled hole size requirement may vary from 1.38 inches to –1.5 inches.
This faucet boasts brass construction without worrying about lead. The black kitchen sink faucet consists of food-grade PEX inner hoses to offer clean and fresh water. It lets you enjoy a healthy utility sink faucet. It even includes ceramic disc valves that exceed the industry's longevity standards, ensuring high performance and maximum durability.
The faucet is easy to install with 1 or 3 hole installation. It comes with 3/8 inch H & C water hoses and even the mounting hardware comes with the package. Its easy DIY installation is within 25 minutes without the need for a plumber.
Pros:
It works as advertised
Offers value for money
It is an aesthetic product
High-quality faucet for modern kitchens
It delivers great performance
Totally worth the price
Con:
Easy to break down is not handled with care
Kraus KPF-1610SS Bolden 18-Inch Commercial Kitchen Faucet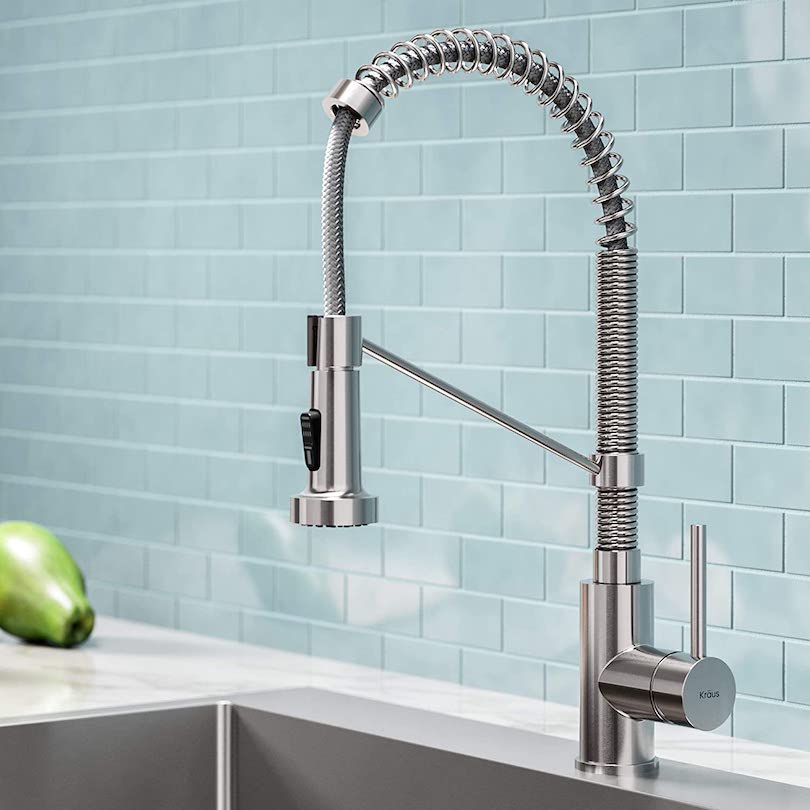 The Kraus KPF-1610SS Bolden 18-Inch kitchen faucet is great for both home and commercial use. It boasts a compact height of 18 inch and fits under any home kitchen cabinet. Moreover, it comes with dual spray modes for toggling from its free-splash aerated stream. Hence, it gets pre-rinse powerful spray with an easy switch flip. The product is even eco-friendly and durable and has the potential to perform heavy-duty functions.
Product Details:
This commercial-style faucet is highly functional and flexible. It comes with a heavy-duty open coil spring spout that boasts an industrial look. Hence, it's a perfect fit for modern homes.
It is well optimized for home use. It boasts an 18-inch height that can fit under any kitchen cabinet. Furthermore, the pull-down spray head provides an extended range of motion all around the sink.
This dual-function spray head is easy to clean and offers an aerated stream for daily cleaning and powerful spray. Hence, it offers heavy-duty rinsing. The docking arm comes with a holder and keeps spraying flexibly while in place.
The faucet boasts a wear-resistant finish that won't fade over time. It is available in various finish options, so you can create the desired look.
Boasts a smart handle design that operates 90-degree forward with rotation. It enables the user to install it even in tighter spaces with no backsplash clearance. The premium ceramic cartridge offers long-lasting and leak-free usage.
It comes with pre-attached installation-ready water supply lines and a hardware mount is also included in the package.
The faucet offers a lifetime of limited warranty and satisfaction is guaranteed with the top-rated customer service.
Pros:
It is a high quality faucet
Totally worth the value
The product offers remarkable performance
It is highly durable
Con:
Does not offer reliable customer services