What is the Most Durable Faucet Finish?
*This post may contain affiliate links which implies that I may receive commission if you purchase through the links that I have provided (this happens at no extra cost to you). Here is my full affiliate disclosure.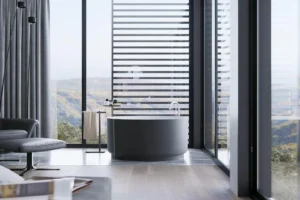 Do you want to buy a faucet for your kitchen? Several things should come to your mind. Among the things you should consider is the finish of the faucet. for example, what is the most durable faucet finish? It's now common knowledge that the faucet's finish is an important but often ignored aspect of the design.
The finish on a faucet was not always considered important, but with the advancement of modern technology and the public's widespread appreciation for the aesthetics of the kitchen, this has changed. You can try out new looks at any of your home's sinks.
Depending on the look you want to achieve in your kitchen, there are different faucets finishes available out there. From rustic to a modern and elegant design, there are many finishes that you can consider.
Other common finishes comprise of chrome, copper, satin brass, polished brass, matte black, oil-rubbed bronze, and so on. It is worth noting that different faucet finishes usually have various features.
Durability is one of those features that you should check in a particular finish. However, one of the questions that most people ask is, which is the most durable faucet finish?
Brushed Nickel
Brushed nickel is the most durable faucet finish. You will realize that this finish is created by rubbing nickel over the faucet so as to give it a silver look.
It is then brushed out to give a matte sheen and finished off with some lacquer to prevent the surface from both wear and tear. The soft metallic look of brushed nickel typically gives it a traditional and homey look.
Compared to chrome and oil-rubbed bronze finishes, this finish is more durable. Apart from this, brushed nickel faucets are east to clean and easy to find.
You can trust that you can readily get numerous accessories and bathroom fixtures that match seamlessly with the brushed nickel as well. Importantly, this finish will not display fingerprints or water spots.
It is worth noting that brushed nickel has proved to be a versatile finish and normally goes with almost every style of kitchen and bathroom.
There will be a sense of unity created by this finish, and it won't be too dominant over other styles in the room. Apart from brushed nickel, the polished brass finish is very durable.
Polished Brass Finish
You will realize that polished brass is basically a classic finish that is usually produced by polishing and finishing solid brass with lacquer to reduce tarnish in the long run. This finish is known to be bright and shiny. Also, it has a very reflective surface.
Besides being durable, this finish is easy to find and clean. Just like brushed nickel, it is easy to find bathroom accessories and fixtures that will match the shiny finish.
The lacquer finish prevents the metal from oxidizing. Whether you have a traditional or vintage design in your kitchen, this finish can go well with any of these designs.
Conclusion
Buying a faucet that has a durable finish will enable you to save more money in the long run. This is also a wise investment for your house. Besides being durable, these finishes will complement your kitchen design. Consider these finishes for your faucets today, and you will not be disappointed. These finishes have proved to stand the test of time. They are truly the best.