Indoor vs. Outdoor: What Do I Need to Know Before Buying a Hot Tub?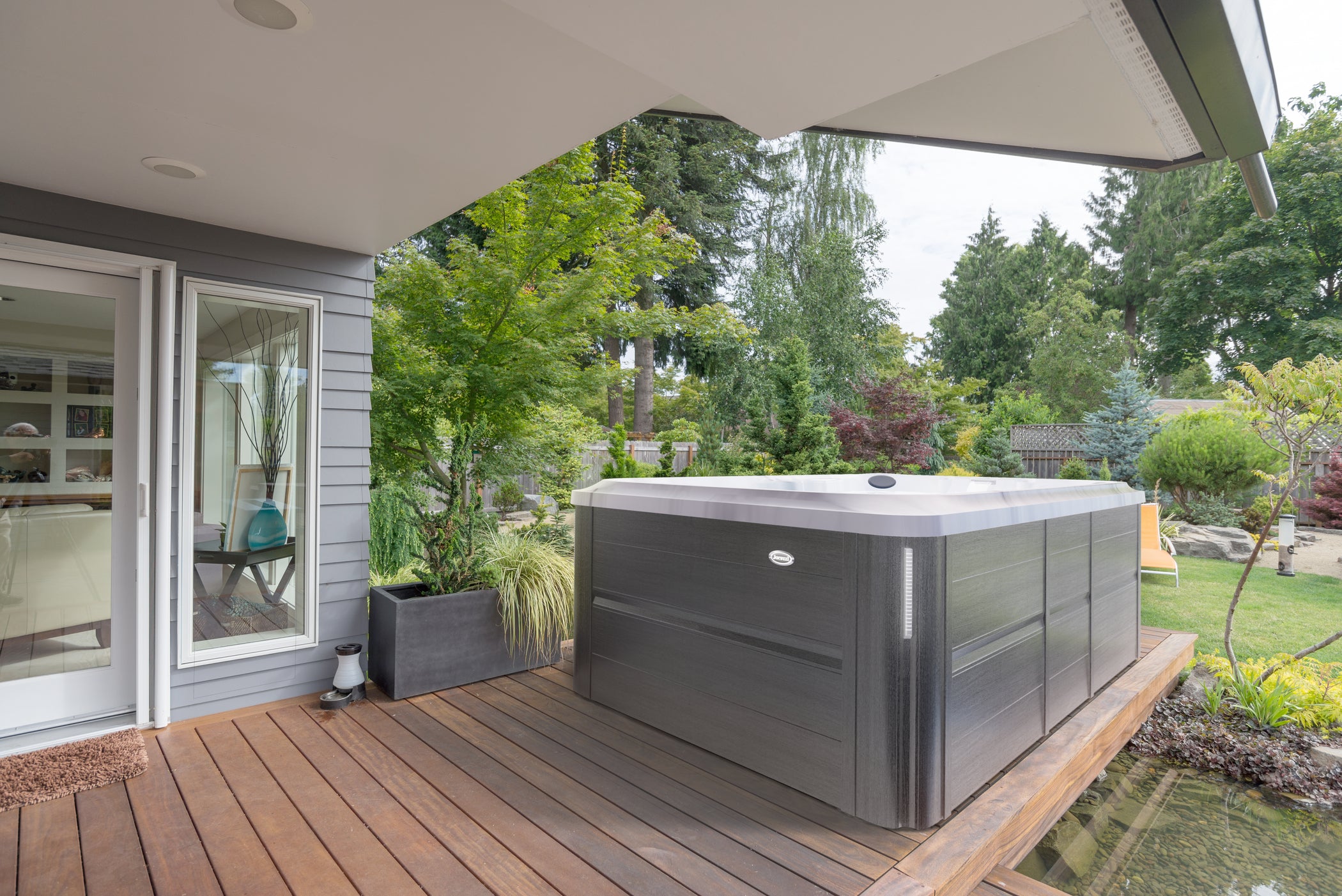 With the holidays right around the corner, now is the perfect time to get your home in shape to host guests this winter season. A new trend many homeowners are jumping on is adding luxury home amenities that can be enjoyed all year long. These types of upgrades spice up your space without breaking the bank, are a source of entertainment for you and your guests, and set the stage for unforgettable memories. Consider investing in a hot tub as your choice of luxury amenity, and indulge at your leisure.
Hot tubs are great for decompressing the body, relieving pressure from aching muscles, and practicing self-care at home. They're also the perfect addition to make your home ready to host guests and keep them entertained during all seasons. Hot tubs are a worthwhile investment whether you're putting them inside or out, and can be utilized all year long even during the colder months. If you're looking to add a long-lasting amenity to invite relaxation and entertainment to your home, a hot tub may be the right decision for you. Keep reading to find out which type of hot tub is right for your home and the perks of having an indoor or outdoor setup.
Indoor Hot Tub Space
Choosing an indoor hot tub comes with perks such as having a place to unwind and relax that provides you with a spa-like experience without having to step foot outside your door. If you have the extra room and funds in your budget, you can create a spa oasis inside your home. Your indoor hot tub space will be the perfect attraction for hosting guests and a great source of entertainment at parties! You can utilize your indoor hot tub during all seasons, even customizing your hot tub room to have doors or windows that open so you can enjoy nature as well. It will be protected from elements such as rain, sleet, and snow, extending the longevity of your tub. Choosing an indoor hot tub is perfect if you don't have much space left in your backyard, but do have extra rooms in your home that can be converted into an at-home spa. When adding a space like this to your home, there are several things to consider.
What Does the Installation Process Entail?
A precaution with having your hot tub indoors relates to the installation process. An indoor hot tub is a large investment to begin with, but if problems occur due to improper installation, you may run into issues such as mold or mildew, water damage, and leaking that can erode your walls, ceiling, and floors. You're going to want to do research into the type of hot tub you want to invest in, and be sure you have the correct set-up in place to protect your home and hot tub. Most hot tubs are very large in size, especially if you've splurged for a more up-to-date, fancier model. Be sure that you'll have enough room to safely move the hot tub into your home. By researching ahead of time, you can eliminate running into issues on the day of installation when your hot tub is too big to fit in any entrances of your home.
In all, the installation process will cost you more if you'd like your hot tub indoors, so plan ahead by ensuring your home has an easy access point to move it inside. You may want to consider installing french doors, sliding doors, or an opening to your custom hot tub room large enough to accommodate the size of your hot tub. If you're willing to spend a good amount on this project, expanding your home is a great investment. By adding an indoor hot tub room, you can customize the opening to fit the size of your tub for easy moving, and easy drainage to your yard. Hiring a professional is an important move here because they'll be able to recommend the best ventilation systems, the best ways to insulate your indoor hot tub room to prevent mold growth and maintain temperature, and the proper care tips for your indoor tub.
What's the Financial Investment? 
If you're considering a large investment such as a hot tub, you're most likely planning on loving and living in your home for many years. Luxury amenities such as hot tubs, saunas, and pools bring value to your lives and home, so it's important to put time and money into them. Installing big projects like a hot tub can add up quickly and between the costs of contractors, home renovations, building materials, and chemicals for maintenance, you're going to be spending a good amount of money.
It's important for you to make your investment work for you, so you can reap as many benefits from it as possible. One way to allocate extra funds for a large project like this where you're making purchases and extensive renovations is to update your home to a 30-year fixed mortgage. This is a great solution if you're planning on staying in your home for a long time. With this, your monthly mortgage payment will be lower than that of a 15-year fixed mortgage which will provide you more money to combat some of the more hefty upfront costs. This is a great way to finance your hot tub renovation because you'll have more money monthly to spend on maintenance costs, add-on features such as color-changing lights and special jets, or waterproof appliances for your hot tub room. Additionally, a hot tub is an investment that will boost your home's value if you ever decide to move.
How Can I Prevent Damage to My Home?
When creating your indoor hot tub spa, you'll want to be mindful of the materials used to build the room. If it's a preexisting room, versus an addition, there are some updates you may need to make to avoid damage from the hot tub inside your home. For example, you'll need water-resistant drywall, glass, cement, or cedar wood walls as a protective measure to prevent corrosion and mold buildup. To further prevent mold and mildew, you must be sure to have a proper ventilation system for the hot tub. Hot tubs produce heat and steam, which if not dissipated the right way will grow mold and mildew in your home's foundation. Every tub is different, so you'll want to be sure the ventilation is strong enough to dissolve the amount of steam your tub produces. You'll probably want to spruce up the space you will be relaxing in, and many hot tub owners enjoy adding TVs, speakers, a mini fridge, a linen closet for towels, a porous floor to dry off on, and more. For the electronics in your indoor spa, you'll want to be sure they are waterproof or resistant, to prevent any damage or short-circuiting caused by the hot tub's steam.
Outdoor Hot Tub Space
If adding to your house isn't an option, consider putting your hot tub outdoors! This is just as rewarding of an option, and simply having a luxury amenity at home is a big enough incentive to invest in one. The perk to owning an outdoor hot tub is simple; the maintenance is a million times easier! The tub is ventilated naturally due to being outdoors, so you won't have to worry about as much damage, and the costs will be much lower because installation won't require renovating your home. You'll be able to spruce up your outdoor space with plants, hanging lights, or speakers to create a tranquil environment to relax in your hot tub. If you're leaning towards an outdoor hot tub, read below for more information on questions you might be asking yourself.
What's in my Price Range?
You can choose between expensive and inexpensive models for your outdoor tub, and decide which investment is best for your family. Outdoor hot tubs can range from roughly $3,000-$17,000 for basic models to luxury, and that is for the hot tub itself minus installation and renovation fees. Installation can cost up to $500, starting as low as $150 for a professional to do the work. Just like the indoor tub, having an outdoor hot tub will bring a lot of value to your home if you do ever decide to sell it. This is an amenity that you'll be able to enjoy, but will also give back to your investment in the long run.
Will I Have Enough Privacy?
If adding to your house isn't an option, consider putting your hot tub outdoors! You'll be able to spruce up your outdoor space and create a serene area to relax in your hot tub. Putting up a fence or planting tall trees or bushes will create privacy in your yard allowing you to enjoy your hot tub whenever you please without having to worry about nosy neighbors or other interruptions. Even though your tub will be outside, you'll be able to use it in the off-season of winter as well as summer. An outdoor hot tub is a perfect retreat for the cold winter months, and a great way to warm up and relax.
You can create a private getaway in your backyard, and save money on indoor installation costs. By having your hot tub outdoors, you won't have to worry as much about mold growing because your tub will be naturally ventilated by the outdoors. If you're the type of person who enjoys connecting with nature, consider putting your hot tub outdoors to be one with the elements while you soak in your hot tub.
Regardless of whether or not your hot tub will be indoors or outdoors, it is a necessary precaution to hire a professional remodeler to ensure the job is done correctly the first time around. Amenities such as hot tubs, pools, and at-home saunas require lots of money and time to manage the upkeep. It's important to install a hot tub properly to prevent severe, extensive damage to your home which will likely be a costly fix. In the long run, the costs you're spending on good renovations and professional help, you're saving money from avoidable breakdowns, leaks, and damage resulting from poor installation and maintenance.
There are many ways to accommodate hot tubs, inside and outside to meet your home design fantasies. Whichever route you decide to follow, adding a hot tub to your home is always a valuable investment that will bring entertainment and relaxation to your home.