Rated People Insurance – Find out about types and services
Find out now and let us know if you'd be interested in receiving a quote from Rated People Insurance Services, powered by MGAM**. If you already have insurance, we can display an "insured tradesperson" certificate on your profile. Find out more.
GET AN ONLINE QUOTE
Go straight to – What do I need to know about Rated People Insurance Services?
What do I need to know about tradespeople's insurance?
Insurances you MUST have:
Employers Liability insurance is required by law in the UK, even if the employee isn't on the payroll. i.e. you must have a minimum of £5m EL cover even if you only have workers who are labour-only subcontractors, part time, casual or cash in hand. If you don't, you can face a significant daily fine.
Van / commercial vehicle insurance. If you're using a private car such as an estate vehicle for work purposes, e.g. carrying tools, you must have commercial cover. If you don't, and something goes wrong, the insurer will probably be unwilling to pay out.
Public Liability Insurance for tradespeople
Public Liability Cover* (PLI) is highly recommended – Rated People Insurance Services don't offer an insurance package without it. It might also be very useful when it comes to proving your credibility and providing assurance to homeowners.
You can choose how much PLI to take out (the indemnity limit, which is the maximum amount a policy will pay out in the event of a claim). You can decide what level of cover you think is appropriate to your business. The level of cover chosen will alter what you pay. It's worth remembering that legal fees soon mount up, so make sure you are happy you have adequate protection.
Having PL in place can be an important factor to your customer. As you'll be working on their property or in their home, showing them that you have PLI may give them peace of mind that you're taking your responsibilities seriously.
Working as a main or subcontractor on a larger site, whether residential or commercial, PLI is often a contractual requirement and you simply won't be allowed on site without it. Check the paperwork, which will normally stipulate the amount of cover that you should have in place, and be prepared to show evidence that you have it.
If you want to join a trade body or organisation, you may find that they expect you to have PLI in place.
Given that it's almost always a good idea to have PL cover in place, to protect your business from costs in a claims situation, it's also something you can actively broadcast to customers and trade bodies to prove your credentials as a responsible tradesperson. It gives you peace of mind while also working as a marketing asset!
Other considerations / types of cover that you should think about
Contract works cover*
This insures the work in progress on a construction project. So whether its an extension, re build or new building you're involved in working on, this cover protects you from when an insured event ruins the work you've done to date. Contract works will pay out for any damage or destruction to the property and materials.
Hired-in plant and equipment insurance*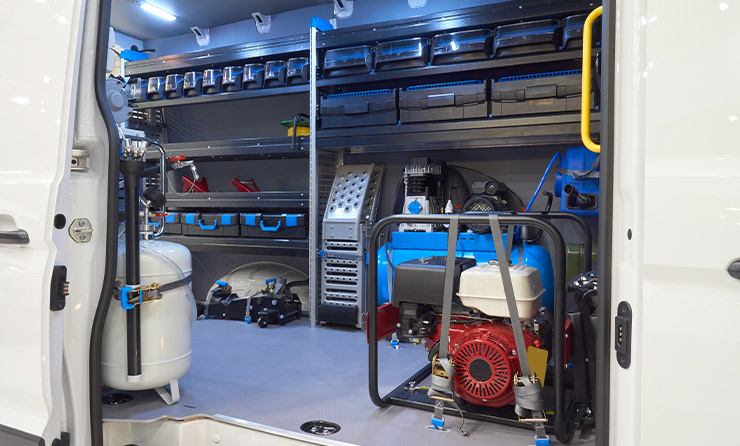 It isn't always cost effective to own every tool yourself, particularly if it's something that's expensive to buy and that you may only need a few times a year. So, you can hire it. And when you do, as you sign the hire paperwork, you'll be asked to prove you have insurance for the equipment in place, or you'll need to take out the hirer's own cover, which could be expensive. Taking the option to cover it as part of your annual tradesperson insurance means you could save money.
Employee's own tools insurance*
Most tradespeople end up amassing some of their own tools. Tradesperson's insurance can be bought that includes cover for employees' own possessions.
*Subject to underwriting acceptance criteria, policy terms, conditions and restrictions. Please see policy wording and Insurance Product Information Document (IPID) for further information.
How much does a tradesperson's insurance policy cost?
The price of tradesperson's insurance is affected by several factors including but not limited to:
Limit of indemnity being requested
Value of any contracts
Type of project (for example, working at height or depth and use of heat)
Previous claims history
Number of staff
Years of trading history
What do I need to know about Rated People Insurance Services?
What Rated People Insurance Services offer?
Cover for a wide range of trades including plumbing, carpentry and electrical
Public and Employers Liability Insurance
Tool insurance
Contract works
Emailed documentation
You can get a quote or buy a tradesperson's insurance policy online in minutes
Quick turnaround after offering a quote, and in sending documentation
Insurance arranged and administered by MGAM Limited
Get an insurance quote with Rated People Insurance Services
GET AN ONLINE QUOTE
If you have any other questions on Rated People profile certificates, contact our team here.
**MGAM Limited is registered in England and Wales (No. 09742763). Registered office: Walsingham House, Ninth Floor, 35 Seething Lane, London, EC3N 4AH. Rated People Limited is an Introducer Appointed Representative of MGAM Limited (FCA No. 655740) who are authorised and regulated by the Financial Conduct Authority to carry out insurance distribution activities. Rated People Insurance Services is a trading name of MGAM Limited. Rated People Insurance Service policies are arranged and administered by MGAM Limited (FCA No. 835270).